Carlos E. Vallejo.
After the pandemic, Mallorca is leading the construction of residential developments in Spain. It is a new scenario and much more expensive. The model apartment of 100 square meters, on a farm with parking and community pool, has risen to 450,000 euros, when it had been stuck at 300,000 euros for more than a decade.
The economy has not improved, salaries remain stagnant, although quite the opposite, but the promoters make their own cost structures and with a more than considerable profit margin, they will bring to the market an offer above the purchasing power of the majority of the demand. There will be time in the future for offers and price drops.
Only in the "Vivero" and "Rafal Vell" neighborhoods are promotions being carried out at competitive prices. They are promotions of independent businessmen, who prefer to lower the profit margin and a greater turnover in the sale of apartments.
L'Oliverar
The neighborhood that concerns us today is delimited by Camp Redo, Buenos Aires, Plaza de Toros, Son Oliva, Amanecer and La Indiotería, it has a census of less than 3,000 inhabitants, where the low houses of the town were the protagonists.
At the end of Calle Archiduque Luis Salvador, on the corner of Calle Ignacio Ferretjans, begins a series of plots, where the works are progressing relentlessly. The exit with the beltway has been operational for years. There are more than a thousand homes, led by national developers, where except for the exterior design, the offer is very similar: one, two and three bedrooms with the possibility of parking and a community pool.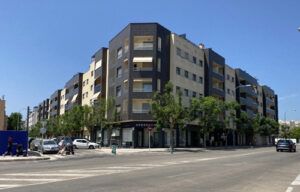 The future "Mercadona" is already projected on the commercial ground floor of a future residential block. All the workers work tirelessly, transforming a rural neighborhood into a dormitory area of the city.