Carlos E. Vallejo.
It does not have much of a neighborhood identity, it would be more similar to the concept of urbanization, but they are mostly multi-family homes. Very nice area to live, green areas with a small park but enough for the few neighbors who live in this area of Palma.
It has the largest and free car park in the entire city, which was built in its day to support the former Son Espases car park.
ASPAS Cafe of the Aspas Foundation, gives a lot of life to this area, there are many people from Palma who have breakfast and eat every day on its cozy terrace.
The average income of the 5,087 multi-family homes in the rental neighborhood is €10.50 per square meter, at market level, with an average surface area of 93 meters. In the case of single-family homes, it has 331 homes (99% of the vast majority are ground-floor townhouses) with an average income of €6.4 per square meter and an average area of 157 square meters.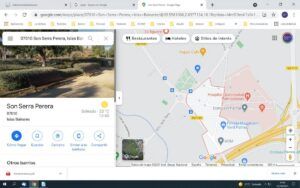 Within this small neighborhood, there are two very different areas. The good one, which is the one above the Cami del Reis, is more than six streets in a very pleasant area. The bad one, on the other hand, is attached to the "Quiron salud" and "Breda" clinic, the old "Magatzen verd", it is a rather ugly area with multi-family buildings of three and four heights.
In general, it is a very small neighborhood, which does not have the category of neighborhood, nor its entity. Despite this, there is an area that will surely be one of the best areas, value for money, to live in Palma.